We agree to the following:
We agree not to keep any records on any activity other than that which is required.
What we store includes:
Your e-mail address
Your username
Your password
Your current balance
Number of CAPTCHAs you have passed to us
No other information is stored, and CAPTCHAs are deleted shortly after they are entered.
If you have any questions of concerns about any of this, then feel free to email us at 

, and a support agent will get back to you as soon as possible.
Contact Info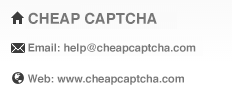 ---